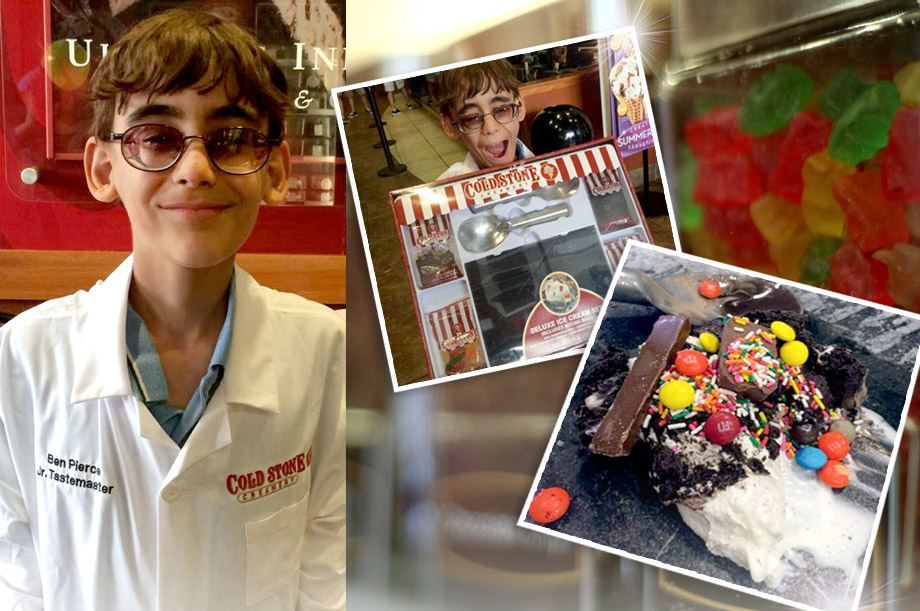 Ice Cream Dream Come True
Ben's Wish List
07-23-2014
If you knew you were losing your sight, what would you want to see? Nine-year-old Ben wants to see as much as he possibly can—so he created a Wish List! Ben has a condition that will continue to reduce his eyesight until he loses his vision completely. But that hasn't stopped him from traveling the country (and soon the world) to cross experiences and places off his list! When an Orlando, FL Cold Stone Creamery franchisee, Natasha Kalipersaud, heard that one of his wishes was to see how ice cream is made, she couldn't have been more thrilled to welcome Ben and his family to her store.
Natasha and her crew showed Ben, his parents and his siblings around store then got started on the ice cream fun! Ben was presented with a Junior Tastemaster Coat and a hat so that he could look like a pro while he assisted with the chocolate ice cream mixing process. After they saw how ice cream is made, each child got behind the stone to chop and fold their own ice cream Creations to perfection. Ben even got to take home his very own Cold Stone Creamery Deluxe Ice Cream Set so that he and his siblings can continue to practice their ice cream mixing skills at home.
We're happy to have franchisees like Natasha as part of the Cold Stone family who are willing to make a child's wish come true!